Sonoma - Napa News
Sonoma oenophiles ready for upcoming limited release barrel tasting event
10 Feb 2014 9:37 AM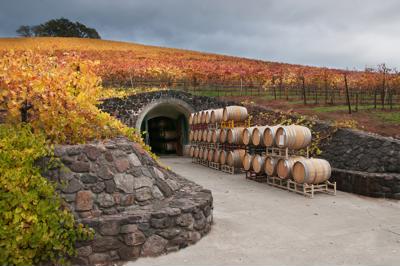 Similar to the nearby city of Napa, Sonoma is one of the picturesque areas in California where some of the nation's finest wines are produced. Thanks to its unique topography and climate, the valleys that comprise this respected region provide optimal conditions for growing grapes and participating in high-end relaxation and recreation.
And, with temperatures likely to warm up significantly in the coming months, resident wine enthusiasts are beginning to make plans for exclusive tastings that will afford them the opportunity see -and sample - what next season's bounty holds. Over the course of two weekends in late-February and early-March, area oenophiles will have the chance to do just that, during the 36th Annual Barrel Tasting event.
Annual tradition remains a highlight of season
During the weekends of Friday, Feb. 28 to Sunday, March 2 and Friday, March 7 to Sunday, March 9, those who choose to attend will be granted the ability to experience young, unfinished wines still in their barrels while exploring the scenic Alexander, Dry Creek and Russian River valleys. From 11 a.m. to 4 p.m. each day, participants can enjoy acquiring a deeper understanding of the production process and obtaining interesting information about featured producers.
Hosted by Wine Road Northern Sonoma County, more than 100 wineries are slated to participate, offering ticket holders samples of their "futures." During these upscale weekend affairs, individuals will be able to interact with winemakers purchase quantities of the varietals and blends they're interested in - often at a substantial discount - and make plans to revisit the winery or receive a shipment in 12 to 18 months when the wines have fully matured and are finally bottled. Oftentimes, due to the fact that many of the featured varieties are so limited, buying futures is enthusiasts' only chance to obtain them.
Those looking to attend one - or both - weekends can reserve their admission in advance for $40 each until Feb. 24, or gain entry for $50 at the door the day of. Individuals who wish to only attend festivities on Sunday can purchase a ticket for $40 at the door. Designated drivers will only the charged a $5 fee to accompany a ticketed attendee, however no one under the age of 21 will be allowed. Admission to the first weekend can be bought through the official event website here, while those planning on attending the second weekend can buy tickets here.
Mobile application provides heightened experience
Tech-savvy oenophiles seeking to get the most out of the weekend tasting events need not look further than their mobile device. A few years ago, in anticipation of the 32nd annual event, Sonoma County Tourism Bureau launched the app "iVisit Sonoma County" for iPhones. This enabled iOS users to instantly access information regarding more than area 300 wineries, in addition to local restaurants, luxury spas and hotels, recreational activities, shopping opportunities and exclusive wine events.
"Mobile technology that seemed like a novelty two years ago, is a necessity today," Keri Hanson, Sonoma County Tourism Bureau's public relations and marketing manager said at the time of the launch. "Travelers seek real-time information for planning and when they're in the destination—our application provides that and more."
As if the favorable weather, breathtaking vistas and high-end wineries just 30 miles from San Francisco weren't enough to attract wine lovers from across the state and country, they now have a virtual tool for enhancing their first-hand experiences of the region. And, for the affluent community of homeowners who primarily reside within Sonoma Valley, they now have a fast and easy way to learn more about the businesses and attractions they already enjoy.