Sonoma - Napa News
Sonoma Wine Country Weekend a regional highlight
20 Jun 2013 1:05 PM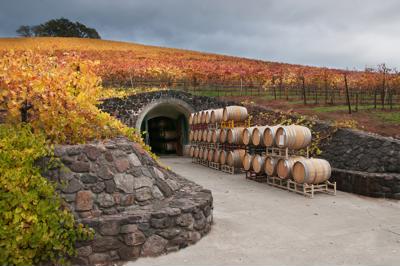 The state of California is highly regarded for its many distinguished wineries, but few other areas produce such quality product as that seen in Sonoma. Accordingly, the area is host to multiple festivals celebrating the libation each year, and makes for the perfect location for someone looking to purchase upscale wine country real estate.
During the course of a weekend this summer, you can sample all that Sonoma's wine country has to offer. The Sonoma Wine Country Weekend will be held August 30 to September 1 and feature hundreds of wineries accompanied by the culinary stylings of 60 of the top chefs in the area.
If you will be in the area Labor Day weekend, and consider yourself somewhat of a oenophile, you may want to consider attending one of the following featured events:
Friday night
On August 30, the first night of the festival, Sonoma Starlight will be held at the Francis Ford Coppola Winery. Set in the Alexander Valley, guests can relish in sampling beverages from 20 local wineries, exquisite cuisine and live music from Bay Area favorites Pride & Joy.
If you're interested in purchasing Patron tickets, you can attend Sparkling Wine Reception and savor an intricate multi-course meal composed by Chef John Toulze, of the girl & the fig, and enjoy access to a cigar bar and private lounge, if you so choose.
Saturday afternoon
A popular annual event, the Taste of Sonoma, will be held at the historic MacMurray Ranch in Healdsburg the afternoon of August 31. Located in the heart of the Russian River Valley Appellation, this occasion includes pourings from more than 200 wineries and an extensive menu of gastronomic delights.
Those holding Grand Reserve Tickets are offered additional privileges throughout the event, including entry to tastings of rare wines. Additionally, guests can take part in a number of wine pairings and informational lectures that will be held.
Sunday afternoon
Attendees of the Sonoma Harvest Wine Auction at Chateau St. Jean in Kenwood on September 1 will have the opportunity to sample elegant wines and discuss their subtleties with the makers.
The 21st annual auction will be held to raise money for Sonoma County charities whose efforts to support youth and provide them with basic healthcare to improve the welfare of the local communities and future generations. If you're not bidding, you can watch from the Wine Spectator Auction Tent.
To learn more about the festival's offerings this year, or purchase tickets, visit the event website.